---
Rastersteography using the Formetric device has the following benefits
Reduces need for Radiation exposure


Provides a 3 dimensional quantification of posture


Can be used to compare changes from visit to visit


Completely harmless imaging
---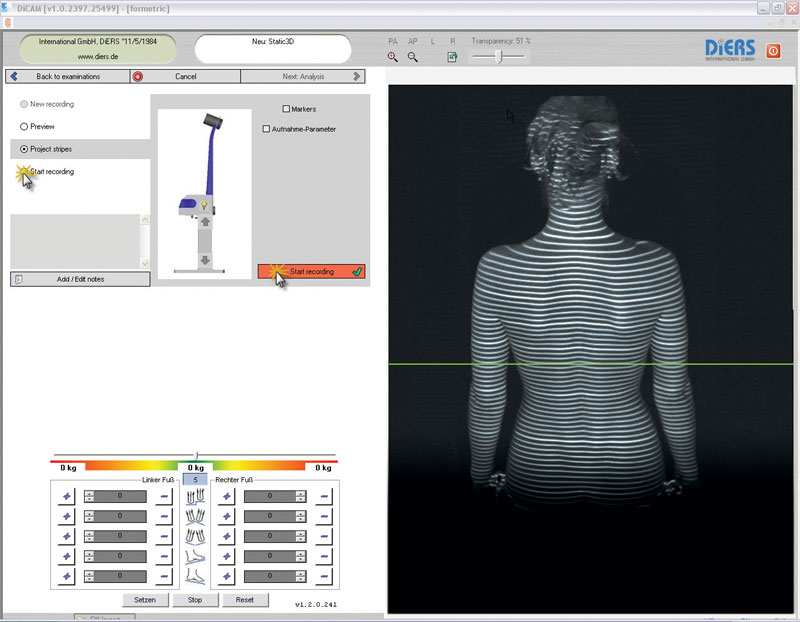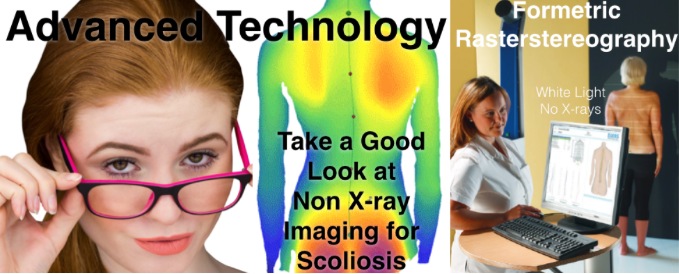 ---
This advanced imaging technology measures and analyzes the 3-D shape of the spine. One of the primary factors of scoliosis is vertebral rotation, which directly correlates with the surface rotation of the torso. This relationship allows us to more accurately measure the rotation of the torso than can be done with a standard scoliosis x-ray.

The Formetric Optical Imaging System was invented in Germany in the 1980s to be able to evaluate the progress in scoliosis treatment without subjecting the patient to harmful radiation. This accurate and reliable biomedical optical imaging system has been widely used since 1996 in Europe by orthopedic doctors and surgeons in large scoliosis clinics. While the Formetric is FDA approved for use in the US, it is only found in a handful of scoliosis clinics like ours.

Formetric Rasterstereography is an advanced optical imaging technology that combines biomechanical modeling techniques to produce a fast, radiation-free evaluation of the spine and pelvis that can be used to monitor scoliosis.

Formetric Rasterstereography works by using a harmless white light projected horizontally at the back to produce alternating black and white lines on the body that are used to measure the surface of the back and produce graphical, clinical, and analytical information on the spine, the pelvis, and posture — without the need for radiation or intrusive measures.

A camera placed at a fixed distance and angle above the patient captures images of the White Light Raster Lines and based on triangulation algorithms the system is able to captures and analyzes a body shape. The recognition of the anatomical structure through the automatic identification of anatomical landmarks on the body surface provides the basis for a reconstruction of the 3-D profile of the dorsal surface.
---
Imaging for the 21st Century – Reduces Scoliosis X-rays
Computerized mathematical construction allows for the display of the spine structure, thus providing an accurate diagnostic tool that measures the curvatures of the spine without the use of x-rays.

This non-invasive, harmless imaging has allowed us to reduce exposure to scoliosis x-rays to our patients by up to 50%.

Our 16 Regional Centers offer this technology for initial and follow up evaluations instead of x-rays that would otherwise be used in other clinics. As the curvatures of the spine reduce, so does the cosmetic appearance that is detected by the scanner. This allows for documentation of 3-dimensional improvements in the curves of our patients' spines following our care.
Formetric Rasterstereography Research Articles:
Drerup B, Hierholzer E, Ellger B. Shape analysis of the lateral and frontal projection of spine curves assessed from rasterstereographs. In: Sevastik JA, Diab KM, eds. Research Into Spinal Deformities. 1st ed. Amsterdam, The Netherlands: lOS Press; 1997:271-275.


Hackenberg L, Hierholzer E, Potzl W, Götze G, Liljenqvist U. Rasterstereographic back shape analysis in idiopathic scoliosis after posterior correction and fusion. Clin Biomech.2003;18:883-889.


Hackenberg L, Hierholzer E, Potzl W, Götze C, Liljenqvist U. Rasterstereographic back shape analysis in idiopathic scoliosis after anterior correction and fusion. Clin Biomech. 2003;18:1-8. Turner-Smith AR, Harris JD, Houghton GR, Jefferson RJ. A method for analysis of back shape in scoliosis. J Biomech. 1988;21(6):497-509.


Kyphosis Angulation Measured by Video Rasteerography in relation to X-ray Measurements – Oral Pesentation to the Conference of Conservative Management of Spinal Deformities, Athens Greece April 3-5 2008 by Hans-Rudolff Weiss and N. ElOebeidi
---
DISCLAIMER:
Services available vary depending upon location and provider. Not all services are available in all Locations. Providers are independent contractors and are not employees of Scoliosis Systems O & P LLC